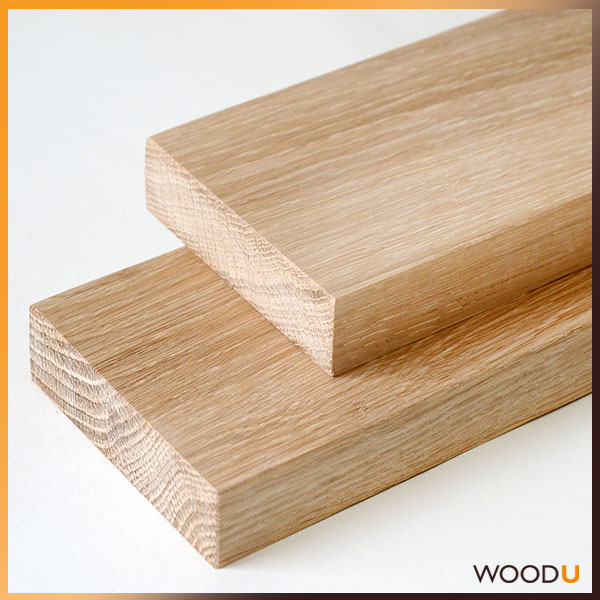 Oak - Prime S/E (Euro) Planed Timber
To buy Oak - Prime S/E (Euro) planed timber boards cut to size, please enter your measurements below.
Description

Details

Reviews (3)

Delivery
Planed Oak - Prime S/E (Euro) Timber:
Planed European Oak is the perfect timber for a long-lasting and distinctive finish. European Oak has a high tannin content meaning it has a strong resistance against insect damage and fungi. European Oak is a remarkably strong and durable wood.
The grain is usually straight, but irregular or cross grain can occur adding to the beauty and appeal of this popular and timeless wood.
European Oak originates from northern Europe extending into the Baltic states. Our Planed European Oak timber is supplied as kiln dried. European Oak can be darkened by fuming with ammonia.
Buying planed Oak online is easy with Woodubuy, simply enter the sizes above along with quantity, and we will calculate an instant price. Delivery of planed European Oak is available to all UK residential and commercial addresses.
The colour of European Oak timber ranges from ad light tan to a deep brown.
European Oak is widely used for furniture and cabinetmaking, quality joinery including , office furniture, kitchen cabinets and flooring Planed Oak timber is sliced for decorative veneers.
Timber Details:
Available Dimensions:
Thickness: 8 - 90 mm
Width: 10 - 165 mm
Length: 600 - 3600 mm

Usage: External
This wood is for external applications (can be used internally if needed).

Material Type:
Hardwood.
Durability Notes:
The heartwood of European oak is durable and highly resistant to preservatives. The sapwood, however is vulnerable to powder-post and common furniture beetles. European oak is a good alround performer.
Typical Uses:
Furniture and cabinetmaking, joinery including church pews and pulpits, office furniture, kitchen cabinets, flooring including parquet, coffins, boats and harboured work, truck bodies. Also cooperage for wines, cognac and beer. Oak is sliced for decorative veneers and rotary-cut for plywood.
Reviews - Oak - Prime S/E (Euro) PAR:
Customer reviews: 4.88 / 5.0, based on 3 reviews.
---
"Great timber, everything was easy, as it should be!" Reviewed by Arthur Jones on 16 Nov 2022

---
"Longer delivery than hoped, but excellently packaged superior timber, will be back" Reviewed by Anon on 07 Oct 2022

---
"We are delighted with the wood provided, delivered on time and well packaged " Reviewed by Anonymous on 16 Jun 2022

---
Delivery:
Almost all of our timber, both sawn and planed, will be ready for dispatch within 5-10 days, often sooner, depending on material availability.
On checkout you will be given an estimated time frame for production and delivery of your timber order.
We deliver timber across the UK to commercial and residential addresses.
Once your order is in production we will contact you to arrange the delivery day and confirm delivery instructions.
If you have any questions about delivery after you have made an order, please us the contact details on your order.
We have more details on delivery on our FAQ's page on this site.
Please Note: All our planed timber is cut to order in the sizes you request.